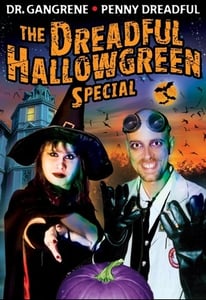 $

7.99
Rondo Award winners Doctor Gangrene and Penny Dreadful join forces in this spooktastic production hosted by Count Gore De Vol.
Sorcery threatens to destroy Halloween as the holiday is turned upside-down: pumpkins turn pink, candy tastes sour, and goblins and ghouls begin acting lovable! Something must be done!! To the rescue - infamous Doctor Gangrene (famed host of Nashville's "Creature Feature") and the enchanting Penny Dreadful (hostess of New England's "Shilling Shockers") - assisted by her werewolf sidekick, Garou - combine science, magic and horrifying humor to save their beloved holiday!
DVD includes the extended cut of the film, with footage not aired in the original half-hour broadcast version. In addition to The Dreadful Hallowgreen Special, the DVD includes an all new half hour special entitled "Trailer Terror" hosted by Penny Dreadful & Dr. Gangrene, featuring the hosts introducing some of their favorite classic horror film trailers. Bonus features include trailers, bios, shorts, bloopers and outtakes. In addition, this DVD contains rarely seen Penny Dreadful footage from her live Holiday Specials and eight public service short films from the Emmy nominated series "Go Green With Dr. Gangrene!" A must have for Halloween lovers and horror host fans alike!